Hola a todos.
It's nice you are here. Hi.
Nueva manicura del Reto 31 Días. Hoy tocaba el día Verde.
New manicure of the
31 Days Challenge
. Today is Green day
Esta manicura me ha gusta mucho, porque es la primera vez que usaba las pinturas acrílicas tan aguadas para hacer el efecto agua.
La verdad es que me entretuve mucho, porque tenia que dar varias capas para hacer que quedase de la manera que quería, al tenerla tan aguada, la pintura cubre menos, es lo que tiene.
I really like this nail art, because it's my first time using the acrylic paint with much water. With the watery paint I had to put many pain layer because it doesn't cover totally.
Materiales usados:
Base Coat
Top Coat
Pinturas acrílicas
Pinceles
Stuff
Base Coat

Top Coat

Acrylic paint

Little Brushes
He querido imitar el mar embravecido. Tanto el cielo como el mar están "enfadados", como en los días de mucho vienta y tormenta. Para hacerlo, como ya he dicho, pintura acrílica y agua, y a dar toques con el pincel hasta que se parezca lo mas que se pueda al mar y el cielo enfrentados en guerra.
I wanted to draw the see and the sky in a stormy day. To make this, as I say before, acrylic paint and water. Paint the nail till looks like rough sea in war with the sky.
¿Qué os ha parecido?
What do you think about this nail art?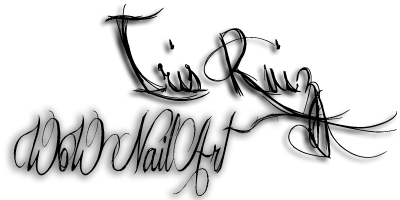 Do you have any nail art that want I make? Any tutorial you need? Any nail art you saw and you want to know how to make it? If this is the case, go to :
REQUEST
¿Hay algun nail art que quieres que haga? ¿Algun nail art que necesites? ¿Un tutorial que no esta en el blog? Si este es el caso ve a :
PETICIÓN