Hola a todos.
It's nice you are here. Hi.
Segunda manicura del Reto 31 Días. Hoy tocaba el día Naranja
Second manicure of the
31 Days Challenge
. Today is Orange day.
Es una manicura muy sencilla y la verdad es que me salió de casualidad, no sabia que hacer y empecé a poner cosas al tum tum.
It's a simple manicure, and I did it by "accident". I didn't know what to do and I've just put colors without order or form. The result does not disappoint me.
Materiales usados:
Base Coat
Top Coat
Esmaltes: Naranja oscuro y naranja claro
Glitter
Pincel en forma de abanico.
Stuff
Base Coat

Top Coat

Color polish: Light orange, orange.

Glitter or Purpurin Nail Polish

Fan Brush
Números y marcas de los esmaltes.

Numbers and brand of the color polish.
Naranja/Orange → flomar: superchine 42
Naranja claro/Light orange → Astor Fashion Studio 003 Orange Jelly
Glitter/Glitter → H&M Sparklin Rainbow
To make this manicure, first paint two nails in orange and two with a orange french. When it dries completely make two vertical lines on the nail with french stile. On the others, with fan brush, make some lines in light orange.
After it dries completely, put glitter on the vertical lines. Put top coat, and it's done.
Hacer esta manicura es muy fácil. Primero tenéis que pintar dos uñas enteras y dos con francesa con el naranja oscuro.
Cuando seque, con el naranja clarito poned una raya vertical en las uñas con la francess. Con el pincel en forma de abanico hacer lineas en las que están pintadas enteras.
Cuando seque, agregar glitter en las rayas verticales.
Pon top coat y listas.
¿Qué os ha parecido?
What do you think about this nail art?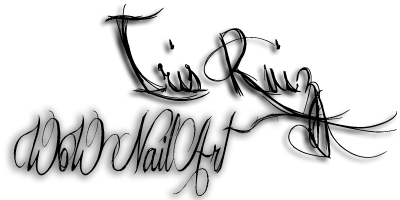 Do you have any nail art that want I make? Any tutorial you need? Any nail art you saw and you want to know how to make it? If this is the case, go to :
REQUEST
¿Hay algun nail art que quieres que haga? ¿Algun nail art que necesites? ¿Un tutorial que no esta en el blog? Si este es el caso ve a :
PETICIÓN