Hola.
Hello.
Vengo un lunes mas con la entrada del Reto 2013 de doce semanas organizado porLovingCosmetic.
I come with a new nail art of 2013 challenge organized by LovingCosmetic.
Como veis esta inspirado en la música, ¿el motivo? Pues básicamente la música es lo que mas me inspira, lo que siempre esta conmigo, haga lo que haga la música me acompaña.
Me ayuda a concentrarme y a desconcentrarme (esto es importante algunas veces) y por tanto decidí dedicarle mi manicura a lo que más aviva mi imaginación.
I inspired for my nail art in music, why? Because I can't lie without music. It's part of my life, every place I go, every time I do anything, the music is there. I need music for all I do, I need it for concentrate and for deconcentrated, this is important some times.
So this I decided to make a nail art inspired in the thing that stirs my imagination.
Materiales usados:
Base Coat
Top Coat
Esmaletes: Negro, negro glitter y blanco
Pegatinas con motivos musicales
Stuff
Base Coat

Top Coat

Color Polish: Black, black glitter and whiter

Music theme stickers
Números y marcas de los esmaltes.

Numbers and brand of the color polish.
Blanco/White → Elisabeth Llorca: 02
Negro/Black → KIKO FORZEN 06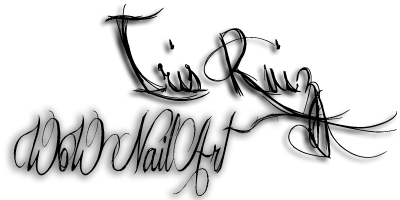 Do you have any nail art that want I make? Any tutorial you need? Any nail art you saw and you want to know how to make it? If this is the case, go to :
REQUEST
¿Hay algun nail art que quieres que haga? ¿Algun nail art que necesites? ¿Un tutorial que no esta en el blog? Si este es el caso ve a :
PETICIÓN