Hola.
Hello.
Hoy vengo con la tercera manicura del Desafío Nail Art organizado por Anyol Blog
Today I come with the third nail art of "Desafio Nail art" organized by Anyol Blog
Es un nail art muy sencillo pero que queda muy bonito.
It's a easy nail art but with awesome results.
We have to make this nail art, I made it on my own way.
Teniamos que versionar esta manicura, y yo la he hecho ami manera.
Materiales usados:
Base Coat
Top Coat
Esmaltes de olores: Dorado shimmer, verde shimmer, verde, marrón shimmer, cobre shimmer, rosa shimmer y violeta.
Herramienta para hacer puntos.
Stuff
Base Coat

Top Coat

Color Polish: gold shimmer, green shimmer, green, brown shimmer, pink shimmer, bronze shimmer, violet

Tool Nail Art Dot
Números y marcas de los esmaltes.

Numbers and brand of the color polish.
Dorado/Golden → Sofia Kosmo 20
Rosa/Pink → KIKO: Glitter 406
Verde Shimmer/Green → essence: color&go: 38 Choose Me!
Verde/Green → RARE : 060 Jade
Violeta/Violet → catrice: 800 Heavy Metallilac
Bronce/Bonze → Catrice: 860 Browno Mars
Marron Base/Brown → catrice: 900 Steel My Heart
La manera de hacerlo es muy fácil:
1. Base marrón. Base verde. Agregamos el shimmer verde.
2. Con el pincel seco damos toques en dorado
3. Con el pincel seco damos toques en bronce
4. Con la ayuda de la herramienta para puntos hacemos los adornos.
5. Top Coat
The way to make this is very easy:
1. Base brown. Green Base. Add green shimmer.
2. With the dry brush, in goldden, make touches
3. With the dry brush, in bronze, make touches
4. With Tool Nail Art Dot make the ornaments points.
5. Top Coat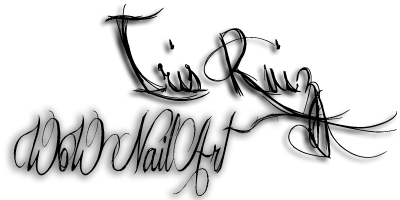 Do you have any nail art that want I make? Any tutorial you need? Any nail art you saw and you want to know how to make it? If this is the case, go to :
REQUEST
¿Hay algun nail art que quieres que haga? ¿Algun nail art que necesites? ¿Un tutorial que no esta en el blog? Si este es el caso ve a :
PETICIÓN